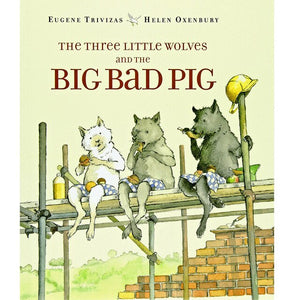 The Three Little Wolves and the Big Bad Pigy, By Eugenios Trivizas
Sale price Price $13.98 Regular price
It was time for the three little wolves to go out into the world, so off they went and built themselves a splendid brick house. But they hadn't reckoned on the big bad pig who soon came along and knocked their house down.
The little wolves built a stronger house of concrete, in which they were "sure" to be safe. But that didn't stop the big bad pig, who made short work of it with a pneumatic drill. Even a house made of armor plates could not protect them. It was only a chance encounter with a flamingo bird that solved their dilemma in an entirely unexpected and satisfactory way.
Helen Oxenbury's enchanting watercolor illustrations, full of humorous details and visual excitement, are the perfect accompaniment to this hilarious retelling-in-reverse of the traditional tale.